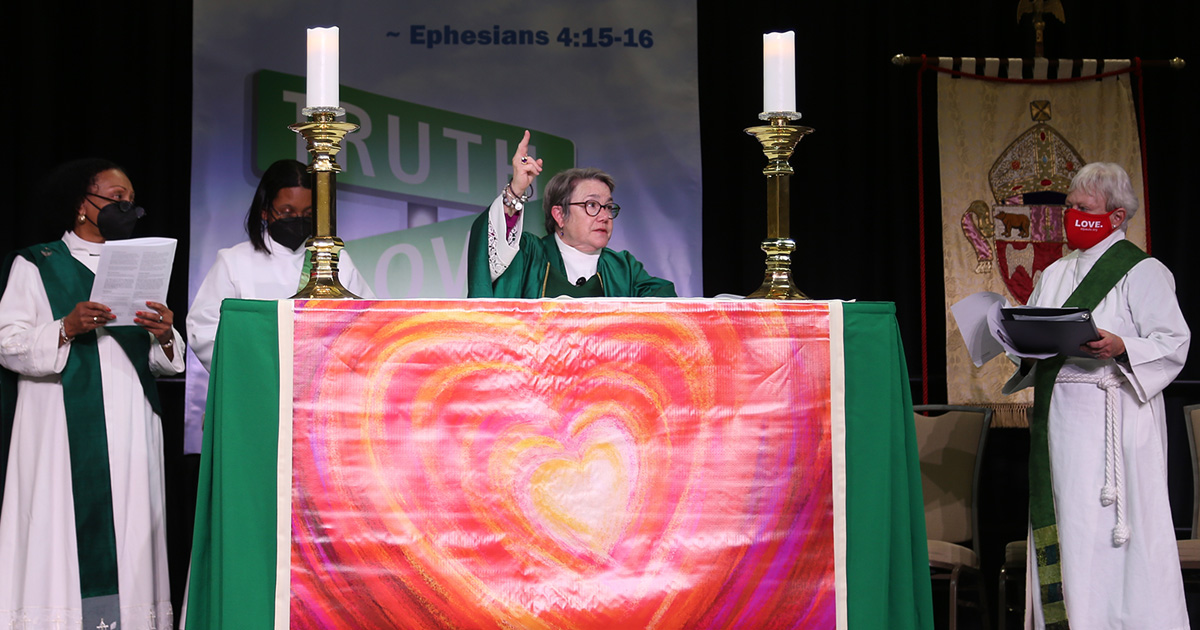 [The Episcopal News] As she prepares to take on a new role Dec. 1 as bishop provisional of the Diocese of West Missouri, Diane M. Jardine Bruce bid a heartfelt and funny farewell at convention to the diocese she has served since May 2010 as bishop suffragan. At times she paused to overcome tears, but also regaled convention with a final "joke of the day."
Her colleagues in leadership, Bishop Diocesan John Harvey Taylor and Canon to the Ordinary Melissa McCarthy, praised her pastoral skill, financial acumen, sense of humor, and kindness.
Diane Jardine Bruce gives her final convention address as bishop suffragan of the Diocese of Los Angeles. Photo: Janet Kawamoto
In lighthearted but warm remarks, Taylor described Bruce as "a pastor who always comforts, with a spirit that always enlivens, a prophet who calls us to account, an innovator in imagining new ways to do mission and ministry, a team builder whose legacy will live among us as she heads East."
This is not "adios but au revoir. We will see this amazing Episcopalian again," he added.
Bruce will maintain her home in Irvine during her time in West Missouri. In her new ministry, she will oversee the Diocese of West Missouri – comprised of 9,000 Episcopalians in 47 congregations – for a period of two to three years until the diocese elects a bishop diocesan. Her tenure follows the Sept. 14 resignation of West Missouri's Bishop Diocesan Martin Scott Field. Episcopal News articles about her role in her new diocese, based in Kansas City, are here and here.
Bruce regaled convention attendees with "blooper" memories of unexpected wardrobe malfunctions, beginning with a miter shoved over her eyes at her May 15, 2010, consecration and an unintended extensive collection of cinctures "borrowed" from churches around the diocese. She recalled such gastronomic delights as spam musubi at St. Mary's, Mariposa (Los Angeles); homemade baklava at St. John's Costa Mesa; pupusas at Trinity, Melrose; and fried chicken night at a restaurant near St. Paul's Commons.
At times, she got lost – once, getting off the freeway in Anaheim to return to her Irvine home to retrieve a forgotten purse, she got stuck in the line for Disneyland parking. On another occasion, slipping out a secret door to wash her hands before Eucharist at one church, she couldn't find her way back. "I searched and searched! The clock was ticking. I ended up having to go all the way out of the church, around the building and come up the main aisle and, yes, people were waiting and wondering what had happened to me!"
Members of the diocesan Altar Guild present Bishop Diane Jardine Bruce with a stole as a parting gift. Photo: John Taylor
She found serving with program groups on stewardship, assisting with finances and partnering with New Community ministries amounted to blessings "too numerous to count," she said.
Bruce thanked the "absolutely top-drawer diocesan staff," including their extremely able leaders, Taylor and McCarthy, and the diocese's clergy and laity. The leadership and dedication of all involved in New Community ministries "has taught me volumes about the challenges they face as people of color in this diocese this country and this world," she said. "They are the best of the best in The Episcopal Church. No other diocese is better than ours in this work and because of all their dedication and hard work, that's a blessing for us all."
There was gratitude: "Thank you for electing me, for trusting me, for teaching and walking with me all of these 11-1/2 years," she said tearfully.
And words of advice: "The Diocese of Los Angeles has a very bright future ahead. Work together. Work collaboratively; be serious when you need to be but never take yourselves so seriously that you can't laugh at the bloopers you make, because we all make them.
"Take time to recognize the blessings as well, they are all around us, every day. Hold them close to your hearts, because in those days we all have when doing mission and ministry in your context seems too difficult or impossible, holding the blessings close and remembering them gives you the strength to see and move beyond any obstacle in your way."
Bruce ended her address with a characteristic joke of the day that brought convention attendees to their feet with laughter, applause, gratitude and joy: "Who was the best female financier in the Bible? Pharoah's daughter; she went down to the bank of the Nile and drew out a little prophet."
Canon Melissa McCarthy announces that a room in the diocesan retreat center where Bishop Diane Jardine Bruce often stayed during her tenure, will be renamed in her honor and furnished with an icon of the Virgin Mary – and a book of jokes. Photo: Janet Kawamoto
Taylor presented Bruce with a dozen gift cards for various Kansas City barbecue restaurants. McCarthy announced that the Martha of Bethany retreat center room at St. Paul's Commons – where Bruce frequently stayed overnight rather than commute from Irvine – has been dedicated in Bruce's honor, and will be furnished with an image of Mary, mother of Jesus and – appropriately – a book of jokes.
The delegation from St. Clement's Church, San Clemente, where Bruce was rector before her 2009 election as bishop suffragan, paid tribute to her stewardship skills by presenting Taylor and Bruce with a $75,000 check, its first donation to the new diocesan capital campaign. The Rev. Patrick Crerar, Bruce's successor, told the convention that her vision and leadership made their generosity possible. (See the main convention story for more.)
At Taylor's invitation, Bruce celebrated the closing Eucharist and closed the convention with a final, emotional blessing: The wisdom of God, the love of God, and the grace of God strengthen you to be Christ's hands and heart in this world, in the name of the Holy Trinity. Amen.