by Janet Kawamoto | Sep 8, 2021 | News
The 2021 meeting of Diocesan Convention will take place in person on Saturday, Nov. 13 at the Riverside Convention Center, and conclude with a diocese-wide Eucharist on Sunday, Nov. 14 held in person and online at St. John's Cathedral in Los Angeles.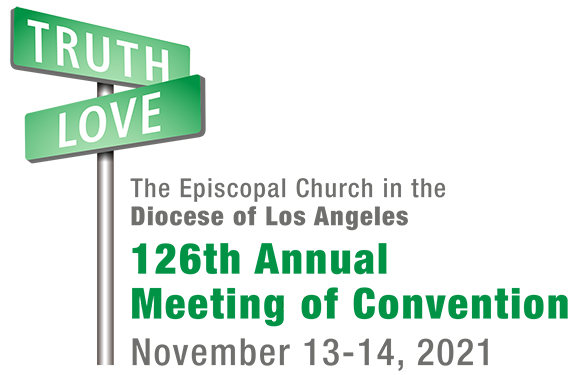 Delegates who prefer not to attend the Saturday business session in person may take part via Zoom webinar. Information will be sent to delegates in the coming weeks.
Convention plans depend on how well the Southland is coping with the coronavirus outbreak; proceedings will shift entirely online if it becomes necessary to safeguard the health of delegates, visitors and exhibitors.
Interested in running for office?
As always, the convention will elect officers to several boards, commissions and committees. Offices open for election are listed here, along with nomination forms and instructions.
To learn more about the various groups and how they work, see the following Episcopal News articles (from 2020):
Accommodations
Delegates and clergy may reserve rooms at the Mission Inn or Marriott Hotel in Riverside for Friday or Saturday night; click here for the reservation links.
Childcare will be provided during the business session on Saturday for infants and preschoolers. "Camp Convention," to be staffed by Camp Stevens, will offer activities and fun for grade school and middle school-age kids. There is no charge. More information will be posted soon.
Pre-convention meetings
Pre-convention presentations will be held in October via Zoom. The three sessions are:
Deaneries 3, 4 & 5: Saturday, October 23, 10 a.m.
Deaneries 6, 7 & 8: Sunday, October 24, 3 p.m.
Deaneries 1, 2, 9 & 10: Saturday, October 30, 10 a.m.
These meetings will only be the diocesan portion of the usual deanery assemblies. Clergy and convention delegates will be pre-registered for these meetings, and will receive Zoom links from the secretary of convention's office. Information on the annual meeting specific to each deanery will be provided by the dean.
For full convention information, visit the website here. More details will be posted in future issues of the Episcopal News Update.