by Carlos Ruvalcaba | Aug 25, 2021 | News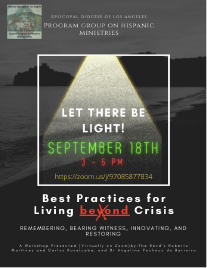 [The Episcopal News] When we look at ourselves 17 months ago, we cannot help but to think in a world that literally had to shut down. The disruption and suffering caused by the COVID-19 pandemic, the economic turmoil, the social upheaval, and violence continues to be challenging and even overwhelming for some of as all this came to change our livelihood in ways both small and profound. Now we see a tiny ray of light as vaccines are being distributed and we slowly begin to reopen and to go back to our more normal lives.
But what was normal? What is normal? Where we have been? Where we are headed? How might we attend to their impact on our lives while also anticipating what life will be like "after the crisis"?
Our common life will require that we give answers to these hard questions that may be best addressed not only at a personal level, but in communion with those with whom we partake in this world.
In this mind and spirit, the Program Group on Hispanic Ministries invites you to join us Saturday, Sept. 18 from 3 to 6 p.m. for "Let There Be Light! Best Practices for Living Beyond Crisis," a virtual (via Zoom) workshop where we will be asked to explore the significance of the intentional act of remembering and the human necessity and importance of such remembering in these times of ours. We will also explore how bearing witness is not a passive act, but one of conscience and consequence. We will be invited to turn our attention to how we can contribute to healing the wounds of the world that we inherit. Last but not least, we will explore together where we should focus our individual and collective attention to find and/or create the breakthroughs we need for the change and innovation the times demand.
The event will be conducted in Spanish with simultaneous interpretation to English.
Zoom link for the meeting is here.
— The Rev. Carlos Ruvalcaba is co-chair of the Program Group on Hispanic Ministries. He also serves on the clergy staff at St. Stephen's Church, Hollywood.