August 20, 2017
Pastor Mark Bradshaw
"It is not fair to take from the children's food and throw it to the dogs."
I think we can safely assume that our Lord is tired.
John had lost his head, and now Jesus has lost his cool.
And who can blame him, everytime he tries to get away for some quiet someone sees him, and before long there is a crowd pressing in.
The people are desperate and in need and Jesus is full of compassion and God has made it evident that through Jesus healing flows. Then one day Jesus decides he needs to get up and go, head to the coast and outside of the borders of Israel where he can enjoy that sweet Mediterranean breeze, put his feet in the sand and watch the sunset. Perhaps Jesus was feeling overwhelmed, weary under the weight of it all. The more people he healed the more aware he became of how many were still in need. For every lost sheep that our Good Shepherd carried back into the fold there seemed to be two new wolves, ready to devour. And so Jesus, feeling hemmed in, goes on a retreat. Jesus decides to practice a little self care, hoping for a certain level of anonymity. Yet, and notice this, whereas Jesus was seeking to find refreshment and renewal outside of his borders geographically, God sends someone to Jesus who is outside of his ethnic and social borders in order to get him back on track. To put it bluntly, God sends his Son a woman to set him straight… to expand his borders… to increase his imagination… to broaden his perspective.
In the television industry, it really has become a type of art to recap the previous episodes of a season, often in only 1-2 minutes, as a means of bringing the viewer up to speed. The current episode plays a specific role within the overall story and the reason for the opening recap is to refresh the audience's memory as to how it relates to a few specific strands within the overall story line.
Now, at first glance it is surprising that this morning's Gospel made it past the final edits. Any of you wish this was a deleted scene, clearly out of character for Jesus? And yet, as we may be standing here scratching our heads the observant disciple will discover that there is a trail of breadcrumbs that has been left for us to follow.
So here it is, our opening recap:
Jesus appointed how many disciples?
The women with the bleeding infirmary, who reached out and touched the hems of Jesus' robe and was healed – how many years had she been sick?
That happened while Jesus was on his way to heal a young girl who was how many years old?
Okay, are you picking up what Matthew is shoveling? So, why 12?
So, in our Gospel this morning we heard Jesus' words, "I was sent only to the lost sheep of the house of Israel."
And right after Jesus learns of John's death he goes away to try and be alone and the crowds follow, he teaches them and then does not want to send them away hungry. With five loaves and two fishes how many people are fed? And here is the bonus question – how many basketfuls are left over?
Are we getting the point yet with 12?
Now, perhaps it is not too much of a stretch to think of the 12 basketfuls of broken pieces as the crumbs that were leftover, one for each tribe. I am picking up on a theme of abundance.
Okay, one last theme in our episode intro, this would have been our Gospel reading from last week – and I don't know about you but I was more than happy to have Abbey veer off from the lectionary and give us her message! Yet, in the story of Jesus walking on water, summoning Peter to come and walk with him, I would have the cameras zoom in on Peter sinking as Jesus extends a hand and says, my paraphrase, "Man, you have such little faith!"
Okay, who is still with me? Did I lose anyone?
Jesus sets off for the coast, outside of Israel, he is tired and I imagine the Pharisees have really gotten under his skin, and then she shows up. A Canaanite, that godless group of people who inhabited the land before Israel came in and conquered it. A Canaanite woman, nonetheless, and she is desperate. Her daughter is tormented by a demon and she begins crying out for Jesus' attention. "Have mercy on me, Lord, Son of David; my daughter is tormented by a demon." But he did not answer her at all. Jesus just ignores her. And his disciples came and urged him, saying, "Send her away, for she keeps shouting after us." Lord, just send her away.
Last week Abbey shared with us a profound poem by the Rev. Dr. Pauli Murray. Much of what I am about to share I gleaned from an article in the New Yorker written in April of this year. Pauli Murray, born in 1910, was ahead of her time. She sat in the wrong seat on the bus, participated in nonviolent demonstrations, and advocated for the equal treatment of all persons several decades before the civil rights movement. She began her life as an orphan and culminated it by becoming the first African American woman to be ordained an Episcopal priest. In high school, she was the only black among 4,000 students. She applied to the University of North Carolina and was denied admission because she had the wrong color of skin. Later she was denied admission to Harvard Law because she had the wrong gender.
While studying at Howard University Pauli was no longer excluded for the color of her skin but rather due to the fact that she had the unfortunate condition of being born a woman. She was the only woman among faculty and students and on the first day of class her professor was all too eager to humiliate her by remarking that he could think of no reason why a woman would desire to attend Law school. Thus, not only did Pauli resolve to become the top student in her class, which she was, but she also grew in her determination to end what she termed Jane Crow.
While at Howard a class discussion arose on how to best end Jim Crow. Plessy vs. Ferguson, the case that upheld segregation, used the phrase "separate but equal." The class conversation was focused on the term "equal" and the men scoffed when Pauli dared to question the term "separate." She proceeded to bet her professor $10 that within 25 years Plessy vs. Ferguson would be overturned, Pauli was right. But her law-school professor, Spottswood Robinson, would come to owe Pauli much more than $10. Pauli would go on to argue in her final law school paper that segregation violated the Thirteenth and Fourteenth Amendment of the US Constitution. Years later Spottswood Robinson remembered Pauli's paper and presented it to Thurgood Marshall and the remainder of his colleagues, the same group who successfully argued Brown vs. the Board of Education.
Now, I would like to propose that Spottswood Robinson and Jesus of Nazareth both share something revolutionary in common. It is not that they both devoted themselves to the cause of justice, nor that they both were committed to advocating for those who society had discounted. Rather, what was revolutionary about these men, and worthy of emulation, is that they both were willing to eat crow. They both were willing to not only admit, but seemingly revel in the fact that a woman had set them straight.
Stepping back into our Gospel, up until this point we have grown accustomed to Jesus being the one who stumps the religious leaders, but in our Gospel this morning it this unnamed Canaanite woman who stumps Jesus. "It is not fair to take from the children's food and throw it to the dogs." "Yes Lord, but even the dogs eat the crumbs that fall from the Master's table." She does not play the victim, she does not need to make Jesus into the villain. Rather, she takes what Jesus gives her and uses it to stump him. She gets creative. – Jesus, isn't it God's table, and isn't God a God of abundance? Jesus, your reference point is this group of children and you are wondering if there is going to be enough for them. My reference point is the merciful God who created us all, and all I need is a crumb from God's table and my daughter will be made well. Jesus, isn't your God bigger than that? And, move over Peter, Jesus looks at this woman and says, "Wow, how great is your faith."
Back in that classroom at Howard University, as those young black men were debating what it means to be treated as equals, the one thing seemingly all men in power held in common, black and white, was that women were not equals. And if it has become hauntingly clear in the recent weeks that we have so much more to overcome for racial equality, let us equally remember how much more we must overcome for gender equality.
And just how many people were fed? Was it 5,000? Matthew makes a point of saying "5,000 besides women and children." So, who was it that decided the women and the children did not count? If 15-20,000 children of God ate and were filled on that afternoon, who decided it was only the men who count? It wasn't God.
God counts those the world counts out.
God counts those who men discount.
We can count on that.
---
You are hereby formally, officially and cordially invited to please join us during this our centennial year and beyond (in-person, online, offline and/or Pastoral Care), on our continuing journey of Love, Saint Barnabas Style 🖤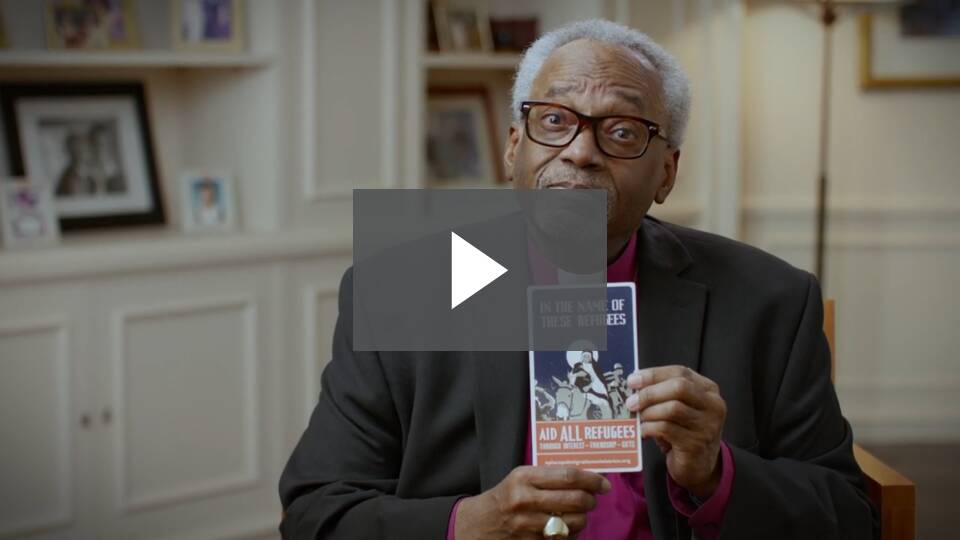 Presiding Bishop Michael Curry's 2021 Christmas message – Episcopal News Service
[Episcopal News Service] "The Christmas stories are reminders that this Jesus came to show us how to love as God loves. And one of the ways we love as God loves is to help those who are refugees, those who seek asylum from political tyranny, poverty, famine, or other hardship.
"In the 1930s, Episcopalians did this to love as God loves, and today, ministries like Episcopal Migration Ministries, the work of this church, have helped to resettle some 100,000 refugees as of December 2021. And that work goes on for refugees from Afghanistan and from other places around the world.
"The Christian vocation as Jesus taught us is to love as God loves. And in the name of these refugees, let us help all refugees.
"God love you. God bless you. And, this Christmas, may God hold us all in those almighty hands of love."
Download full video transcript in English or Spanish.
The Most Rev. Michael B. Curry
Presiding Bishop and Primate
The Episcopal Church
---
How to aid refugee neighbors this Christmas:
Learn more: Find out about Episcopal Migration Ministries' work and how to get involved at episcopalmigrationministries.org. Sign up for the EMM newsletter or weekly news digest here.
Afghan Allies Fund: Those interested in helping with the urgent need for housing assistance for Afghan allies arriving in the U.S. can find donation information online.
Volunteer/sponsor: Those interested in volunteer opportunities or community sponsorship to support Afghan allies can fill out this interest form.
To directly support EMM and its life-changing work, visit episcopalmigrationministries.org/give, or text "EMM" to 41444 (standard messaging and data may rates apply).